I still remember i applied Public Bank Visa Electron debit card since the beginning of year 2007, at that time i used it to verify my personal paypal account. And, i found that it bring convenient for me to withdraw money from paypal to my Public Bank debit card account.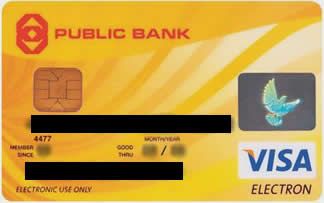 The way of using debit card is totally different from credit card, you will have more better financial management because you need to have enough money in the debit card before you can make any purchase.
My Advise For All Malaysian
Since our government implement the latest credit card scheme, which every principal credit card will be charged RM50 and supplementary card holder charged RM25, then now it's great chance for you to own debit card. Besides that, the process of applying debit card is very easy and you no need to have income requirement.
Annual Fees of Public Bank Debit Card