This is continued from my previous topic Buying Gold As Investment, which dated 21st June 2008. So, as everybody known, now we can buy gold as investment through local bank. You can either open gold investment account from Public Bank or Maybank. You will be given gold savings passbook account, which used to record every purchase or sale order.
But, a lot of my readers keep on sending email ask me what's the different between Maybank Gold Savings Passbook Account (GSPA) vs Public Bank Gold Investment Account (GIA). Previously, I could not find much different between both local banks offer and these are my initial stage of research: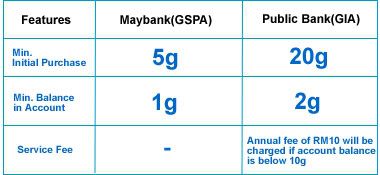 But after going into further details, now I found some interesting part, which can be shared here.