Yesterday, 9th July 2011 would be a history day in Malaysia. It'd been to be the global headline as supporter of Bersih 2.0 can be found not only in Malaysia, but also other country like Melbourne, Thailand, Taiwan and etc.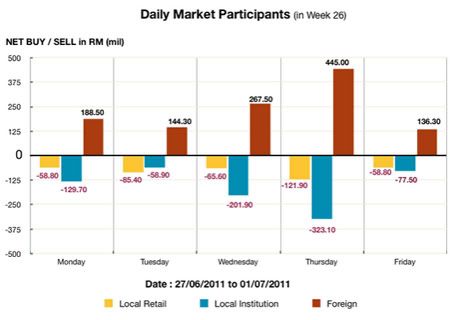 KLCI closed at a new high of 1595 with reduced volume last Friday. Apparently, the index was pushed up by institutional investors near the closing period. On the other hand, we can see that the volume traded decreased as the retail investors are worried about the outcome of the Bersih 2.0 rally.
Based on the month of June, the percentage of total value traded from institutional investors was about 70%. From the bar chart data, we will be able to interpret that our local market was major supported by foreign investors currently.
Based on past few weeks' stock market performance, the retail investors are too cautious about the impact of Bersih 2.0 rally, and it had created tension among them. This is the reason why our market drifted up and down within a narrow range.
Start from tomorrow, our stock market may continue to the uptrend and KLCI index is likely to continue moving forward to test the 1,600 point level. It might be happened as FBM KLCI formed a very strong bullish since 16th June.