Maybank eFD provides convenient way for FD account holder to make Fixed Deposit placements online. All transactions are real time. But, there'll no certificate be issued.
So, if you are willing to open Maybank eFD, then you just login to Maybank2u.com. Click on Accounts & Banking and you will see Fixed Deposits. Then, click on Make an eFixed Deposit placement. Next, you can select eFixed Deposit type (Maybank Conventional Fixed Deposit or Maybank GIA Mudharabah or Murabahah Deposit Account MDA-i).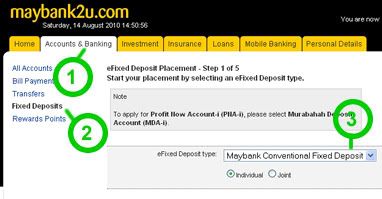 After that, please select term of your eFD. So there's 1 – 60 months.
Please make sure that know the FD rates before you do the placement so you won't feel regret later. So, below are the latest FD rates: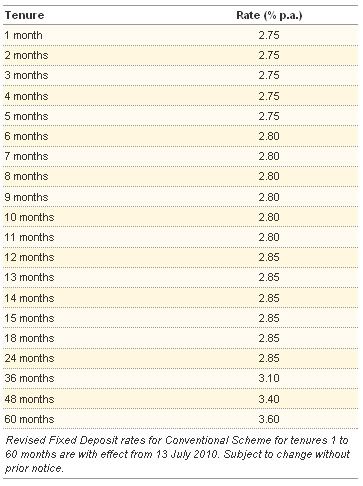 For my case, you can see that I choose Interest payment frequency is On Matunity. Interest payment mode is Add to Principal and select Instruction of maturity to Auto Renewal.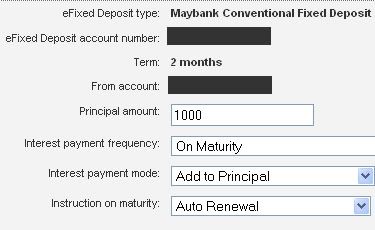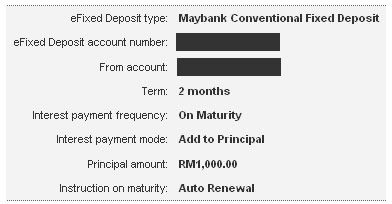 Just now I tested with RM100 with this Maybank eFixed Deposit but failed. So, there's the minimum principal amount which is RM1,000 for 2 months and above, and RM5,000 for 1 month tenure.
Why I Like eFixed Deposit?
It's pretty nice idea to be able to do FD placement through online without suffering from the long queue. This is because doing simple banking at branch could take up to few hours sometimes.
My Personal Advice
It is advisable to print out the receipt for future references. This is to avoid any difficulties or issue with your eFD placement, and please remember that do not close your saving account. Make sure that it is valid and active as the eFD placement and withdrawal is link to your saving account.