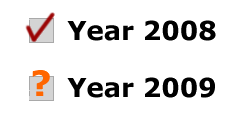 Year 2008 almost come to the end, what I had done in this year? The only thing that makes me felt proud is ability of making a lot of money from Internet. Using Internet to generate US$ and I keep on telling people that I can earn US$ even I stay in Malaysia…Haha…Sounds a bit lansi, right?
How Much I Earned From Internet ?
To be frankly for you, I started my personal blog with own domain and hosting since January of 2008. And my blog started earning money since May of 2008. My average earning is about MYR 377/month (Total Internet Income/ 12 months). However, I still not yet count advertising earning into this total Internet income.
What Is My Next Year Plan ?
My next year plan would be tougher plan for me to achieve. I plan to make and maintain US$ 100 per month; this should not be a big obstacle if based on my current blog's potential. But, the only problem that I may encounter is hardly to attract and maintain 500 visitors per day. This is important to increase my blog's traffic and subsequently may increase my Internet earning.
Besides that, I always do hope that I can get my Google Page Rank 3 back as I rely so much on it to get advertiser attention. This is my Internet weapon and that's the reason I always say Google Is My Boss.
Running Internet business will be my next source of my multiple income plans. I will plan to work together with my partner to do some web application business since he has a lot of ideas and marketing skills. I have several good domains in hands and planning to sell it out to gain some profit. Meanwhile, I will keep on doing domain investment.
For my fixed salary job, I am doing something to change my career path, and looking for more competitive task to do rather than always stick to the same and cannot see the next move. I hope that this time is my most suitable job towards my future business. Although people think that it's not a great time to make such decision during this recession but I feel that they are wrong and we should not take only this as one of the factors to determine your future goals.
What To Buy & Where To Travel During Recession ?
Haha…What you plan to buy during this economic crisis? Sounds a bit lansi again, right? I am planning to buy one Digital SLR camera on January 2009, which is before Chinese New Year, and now I am still performing some market survey.
After that, I will go to Thailand travel and do some market survey that may help me to increase my social network.
Next, I will plan to buy personal car but this could be my big issue since my family may not agree especially my grandfather…Haih…Sometimes I might appreciate someone who can have more freedom (without parent's consent) than me to buy a new car.
We should not blame that's because economic risk and afraid to do something that you may like to do. Cash Is King !!! Thus, it's time for me to enjoy when people feel the pinch of recession!!!