Most of the people won't have the capability to make car payment using cash and it always pay by monthly installment. Many usually have to pay a down payment on it. For me, i will choose to pay less monthly, so i will put at least 50% down payment.
Pay Monthly Car Installment Using Public Bank
Since I've had my bad experience with Maybank, so i won't use it for my online banking. Currently, my most favor online banking is Public Bank as i found a lot convenient and lower charges than Maybank. For your information, I pay my monthly car installment using Pbebank since it's more hassle free and save me some travel expenses as i no need to travel to any Public bank branch to make payment.
Step By Step: How To Make Car Installment Using PbeBank?
Step 1: Go to Payment/Recharge -> Loan/Financing Payment -> To Open 3rd Party Accounts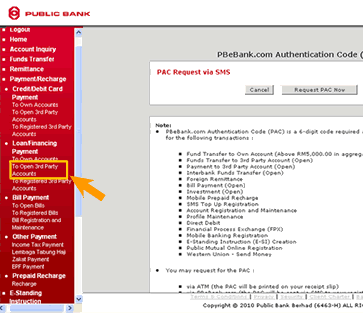 Step 2: Click "Request PAC" button.
Step 3: Key in your PAC now.