I think I should feel proud at this moment because I always keep on paying back the PTPTN loan. Compare to many other borrowers, most of them will defy the loans even they have money to payback. And, in the end, they may receive the warning letter then only start to pay.
Why PTPTN Still Charge Me 3% Interest Rate But Not 1% ?
I had been taking PTPTN loan for my Diploma, which is a total of RM10, 000. Based on the first agreement that I signed, the interest rate was around 3%. However, our Prime Minister announced that the interest rate of PTPTN would be reduced to 1% since 1st of January 2008, and clarified that this will apply to ALL students.
However, I really don't have any idea why PTPTN website never update the latest interest rate which is 1% in their loan repayment section, although the new interest rate took effect more than 1 year ago?
So, do you think what should I do since PTPTN still charge me 3% of admin fee? Just wonder how can the new rate effective since June 2008 but yet to be implemented in October 2009.
I had tried to send PTPTN an email and the officer saying that the conversion from 3% to 1% is still in progress.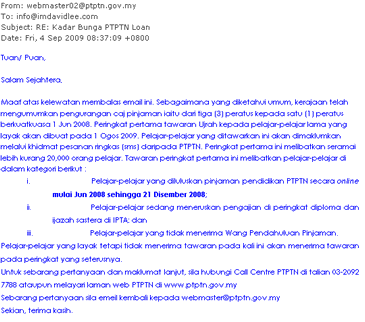 Seriously, I really do not have patient waiting for the conversion as I have to plan to allocate money for my future. 3% interest fee might be a small interest rate, but for an RM10k loan, it can be a huge amount when you do the calculation properly. How suck was the PTPTN loan!!!
Suggestion to PTPTN: Offer Discount For People Who Pay On Time
I have an idea to PTPTN that they should give some discounts to people who pay quick or timely to encourage more borrowers. Do you think it is workable? Perhaps the cost of giving those discounts is much smaller compared to having large number of borrowers refuses to pay back. Am I right?